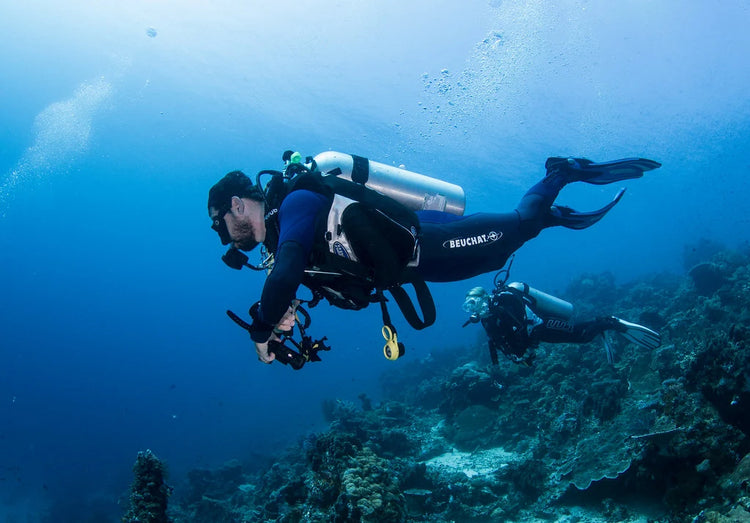 About us
We want to connect with divers and ocean lovers like ourselves through underwater adventure, the extraordinary wildlife it harbors, and an in-depth knowledge of the marine ecosystem.
It all comes from our deep love for the ocean
We were born in 2023 to dress ocean lovers and divers. We dress those who want to show off their passion for the ocean.
Our inspiration comes from the other side of the mirror. From our fascination with marine life. We capture in our designs memories and experiences from our time spent in some of the best dive sites in the world. Komodo, the manta rays of the Maldives, the Thistlegorm, the turtles of Siladen, the wrecks of Malta, the whales of the Galapagos or the currents of Palau. We have been diving for over 15 years. We have a deep love for the ocean.
We are inspired by the peace that comes from diving. We bring to our collections the feeling of unparalleled adventure that accompanies all those who dare to dive into the ocean.
We rely on the diving culture to reflect our respect and love for the ocean. We want to dress ocean lovers and our dive buddies to show their pride as adventurous divers every day.
Fordivers is also a tribute to the ocean's biodiversity. To the natural balance that we learn about on each of our trips. We are fascinated by the diversity of the ocean and how each part of the ecosystem fits together and needs each other.
We honor and thank the dive destinations that have brought us the most to the bottom of the sea and taught us the most about the importance of the marine ecosystem. We facilitate the daily companionship of the species that amaze and excite us the most, whether they are tiny nudibranchs or giant blue whales.
We design fopr those who are amazed by the biodiversity of our planet, those who are fascinated by the dynamics of the ocean, its balance and are aware of the impact of each of our actions on its health.
Fordivers is just a love letter to the ocean.
High quality made just for you
High quality organic cotton

Most of our garments are made from 100% certified organic cotton. We also produce 100% cotton garments of the highest quality and softness.

Light and comfy

We want to provide you with maximum comfort and ease.

Daily comfort

And style while showing your love for nature.
On demand only. Zero textile waste
We produce as we dive: unhurriedly
The products you see in our store are not yet manufactured. We create them for you when you place your order. You will not receive your order within 24 hours. If you are in a hurry, Fordivers is not your place...
By producing on demand, we get out of the fashion overproduction wheel that generates thousands of tons of waste every year. We produce what we sell. Nothing else.