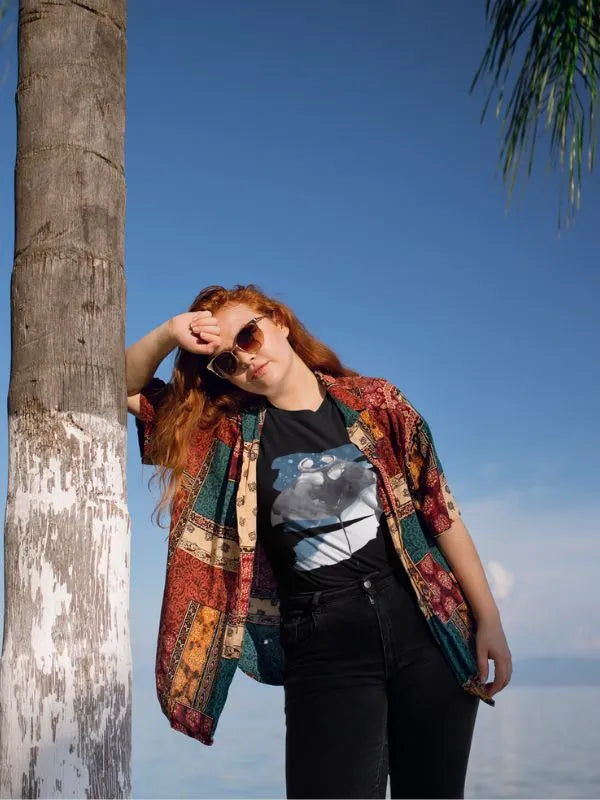 Are you connected to the ocean?
The most comprehensive T-shirt collection for the big blue lovers
Only for ocean lovers
Our women's t-shirt collection is designed for those who share our passion for the ocean and wish to carry with them a piece of peace and a connection with nature. Each t-shirt is a tribute to the immense marine biodiversity and the profound connection we feel with this extraordinary environment. Each t-shirt is designed for ocean lovers, divers, and marine biologists who continue to be amazed every time they cross to the other side of the mirror.
Sort by
Featured

Best selling

Alphabetically, A-Z

Alphabetically, Z-A

Price, low to high

Price, high to low

Date, old to new

Date, new to old
Freedom and connection with the big blue
For the design of our women's t-shirts, we have dived to find inspiration in the treasures hidden beneath the sea, the ones that captivate us the most. The ocean has given us the opportunity to discover a world of whimsical shapes, impossible patterns, and vibrant colors. From astonishing creatures we've encountered with the regulator in our mouth to underwater landscapes that defy imagination. From each of our dives, we've also rescued constant reminders of the beauty and fragility of marine life, and we've sought to capture these moments on our t-shirts.
We also aim to convey in our women's t-shirt collection the essence of freedom and communion with nature that ocean enthusiasts experience. When you dive, you immerse yourself in a realm where everyday worries disappear, connecting with the vastness of the ocean, and with yourself. We want our t-shirts to evoke that feeling of freedom and wonder, allowing you to proudly display your love for the ocean in your daily life.

Our collection offers a wide range of designs that pay tribute to some of the ocean's most iconic species. From majestic cetaceans and whale sharks to graceful turtles and colorful nudibranchs, each t-shirt is adorned with illustrations that capture the beauty of these marine creatures. We've also included designs inspired by dive destinations from around the world, so you can carry a piece of your favorite ocean spot with you.
Commitment to Sustainability
All our t-shirts are made from GOTS-certified organic cotton. This soft and durable cotton is gentle on the skin and the environment. Additionally, our print-on-demand model eliminates textile waste, contributing to the reduction of our ecological footprint.
For Nature Enthusiasts

The color palette of our collection also aims to reflect the beauty of the ocean: white, pink, turquoise, yellow, pastel tones, and black. These colors are harmoniously combined in our designs to create t-shirts as diverse as the ocean itself.

Our collection is designed for female divers, freedivers, marine biologists, and ocean lovers, but it's also for anyone who has a deep appreciation for nature. Each t-shirt is a declaration of love for the ocean and a reminder of the importance of protecting it.