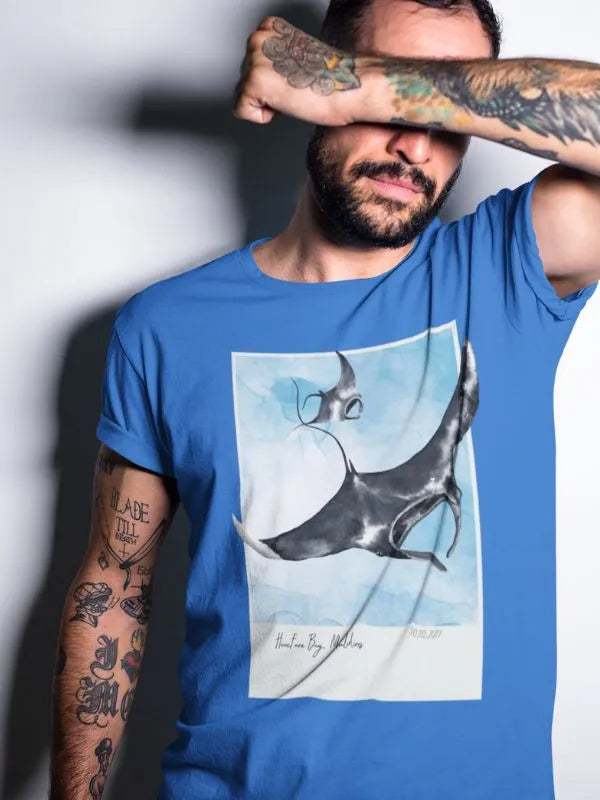 IN LOVE WITH MANTA RAYS
Since our first dive with manta rays in Indonesia, our fascination for them has only grown. The prominent presence of manta rays in our collections is not by chance. Our inspiration drawn from them and their influence can be clearly seen in numerous manta ray-themed t-shirts and sweatshirts from our brand. They have quickly become favorites among individuals like you who have a passion for manta rays.
Manta Rays T-Shirts and Sweatshirts
Sort by
Featured

Best selling

Alphabetically, A-Z

Alphabetically, Z-A

Price, low to high

Price, high to low

Date, old to new

Date, new to old
Manta rays are curious beings, especially when it comes to divers and their bubbles, which have fascinated us since our first interaction with them. We are awed by their blend of serenity, vulnerability, agility and power. It's no wonder that they elicit admiration from ocean lovers all over the world.
We have dedicated a special place for mantas in our collections. Our manta ray-themed t-shirts have been among the most popular and have won over a large number of followers since our inception.
In this section of manta ray sweatshirts and t-shirts, you will find tributes to these fascinating creatures as well as to the destinations we have explored and aspire to visit, such as the Maldives, Socorro, or Komodo.
Show your love for manta rays
In our diverse collection of manta ray shirts, we aim to blend the delicacy, love and connection with the ocean that these majestic animals symbolize.
Through our designs, we want to assist you in expressing the love you feel for these marine giants and the innate need to immerse ourselves in their fascinating universe.
Show your love for mantas through our shirts, available in certified organic cotton, renowned for its softness and durability.