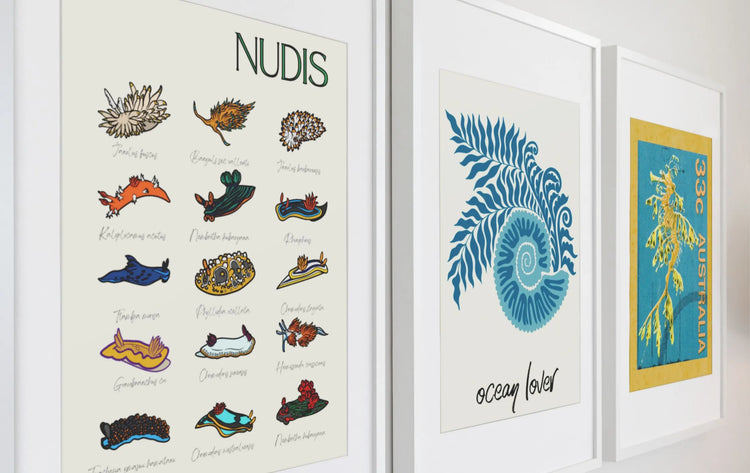 The ocean, always in sight
Discover our new collection of sea wall art & underwater posters. Posters, watercolor pieces and paintings that open up your walls and keep the ocean always in sight.
Sort by
Featured

Best selling

Alphabetically, A-Z

Alphabetically, Z-A

Price, low to high

Price, high to low

Date, old to new

Date, new to old
Colección exclusiva de posters y láminas decorativas para amantes del océano
Sumérgete en la belleza y la serenidad del océano con nuestra exclusiva colección de posters y láminas decorativas. Especialmente diseñada para los que tienen siempre el océano en mente.
Desde láminas antiguas a ilustraciones modernas pasando por posters infantiles, acuarelas delicadas o fotografía submarina, en nuestra colección encontrarás casi tanta variedad como en el mismo océano. Queremos llevar a tu casa u oficina láminas de majestuosa fauna marina, posters de joyas como los nudibranquios, ilustraciones hiperrealistas de conchas marinas o corales, referencias a destinos de buceo, paisajes oceánicos y recuerdos de grandes figuras del buceo (y de nuestra infancia) como el capitán Cousteau.
Si quieres trasladar a tu refugio más personal esa sensación de paz, tranquilidad, equilibrio y biodiversidad que el océano representa, estás en el sitio perfecto.
En cada uno de nuestros posters y láminas hemos querido plasmar la esencia del océano que conocemos. Que hemos buceado. Y que soñamos con conocer.
Plasmamos nuestra fascinación por los nudibranquios y sus vibrantes colores, la majestuosidad de los cetáceos, la misteriosa naturaleza de los corales y el asombro por los patrones geométricos de los moluscos. Estos posters del mar y láminas decorativas celebran la belleza y biodiversidad del mundo marino.

Nuestros posters y láminas han sido cuidadosamente elegidas para ofrecerte una amplia gama de opciones de decoración, desde la expresiva fauna marina hasta los serenos paisajes costeros. Cada pieza es única y refleja nuestra pasión por el mar y asombro por la biodiversidad marina. Suma un toque marino a tu vida cotidiana y crea un ambiente que te transporte al océano. Que te permita oler el mar, sentir la sal y volver a tu infancia. Solo mirando a una pared.