Sea Turtle Sweatshirts and T-Shirts
Carry your love for turtles with you always.
Welcome to our collection of turtle t-shirts and hoodies. Our unique and original designs, all made with certified organic cotton and 100% high-quality cotton, are perfect for turtle enthusiasts who want to showcase their passion for these incredible creatures. Whether you're looking for a casual t-shirt to wear out for the day or a cozy and original hoodie to keep you warm, we have what you're looking for.
Sort by
Featured

Best selling

Alphabetically, A-Z

Alphabetically, Z-A

Price, low to high

Price, high to low

Date, old to new

Date, new to old
Do you feel a passion for sea turtles?
Our collection of turtle hoodies and t-shirts features prints of various turtle species, such as the green sea turtle, leatherback turtle, loggerhead turtle, or hawksbill turtle.
Each design is carefully crafted to capture the beauty and unique characteristics of these incredible creatures. By wearing one of our t-shirts, you can show your support for turtle conservation and raise awareness about the importance of protecting these species.

We offer a wide range of designs that showcase some of the most beautiful sea turtle destinations in the world, from the Caribbean to the Great Barrier Reef, including Sipadan and the Galápagos. You can take your turtle t-shirt to the beach, on a snorkeling or diving excursion, or simply as a memento of your incredible adventure.

For cooler weather, we also offer turtle-printed sweatshirts and hoodies. Our cozy designs are perfect for snuggling on the couch or layering over your favorite t-shirt. You can choose from a variety of colors and styles to find the perfect combination to suit your personal taste.

Our collection of turtle-printed t-shirts, hoodies, and sweatshirts is made from high-quality organic cotton and features original designs that celebrate the beauty of these incredible creatures. Whether you're a turtle enthusiast, a conservationist, or just looking for a comfortable and stylish t-shirt, we have something for everyone. Take a look at our collection and find your perfect turtle t-shirt.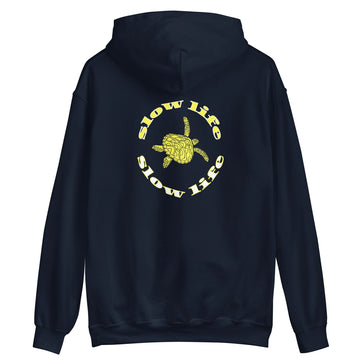 Other tees you might like